Upload foto di Instagram dapat 200 ribu? Hadiah Johnny Rockets Indonesia emang gokil!
Blisteners, pengen gak sih lo dapet uang 200 ribu cuman dengan upload foto di Instagram?
Jadi tanggal 10 oktober 2017 kemarin, BVoice baru aja mengadakan Talkshow Broadcast Knowledge XVI BVoice Radio "Radiomagnetic" yang diadakan di auditorium lantai empat Kampus Anggrek Binus University. Acara-nya seru banget, selain mendatangkan pembicara dari alumni BVoice serta dari radio swasta lain, audience juga di hibur dengan penampilan dari Arditho Pramono, Senar Senja, dan Fourtwnty. Bukan cuman itu, Blisteners yang beruntung bisa mendapatkan uang senilai 200 ribu rupiah hanya dengan mengikuti foto kontes yang diadakan oleh Jonny Rockets Indonesia berkolaborasi dengan BVoice!
Di Johnny Rockets Indonesia, lo gak cuman bisa nikmatin fries, hotdog, sandwich, dan burger yang rasanya Amerika banget, tapi lo wajib cobain milkshake-nya yang termasuk one of the best milkshake in this country! Gak perlu khawatir soal ingredients, karena dijamin premium dan fresh! Oh iya, harganya gak bikin kantong bolong, mulai dari Rp 30,000 – Rp 70,000-an. Wow! Worth it banget kan!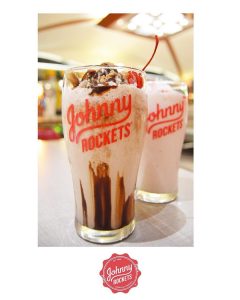 Gak usah ragu-ragu karena Johnny Rockets juga open kitchen untuk customers mereka. Untuk restoran Johnny Rockets fancy banget buat nongkrong sama temen, sama pacar, ataupun mau nugas. Ada 1 hal lagi yg unik, disana lo bakal nemuin jukebox yang dimana lo bisa pilih lagu favorit lo. Bener-bener serasa makan burger di Amerika kan?
Yuk Blisteners, langsung serbu outlet Johnny Rockets di Pondok Indah Mall 2 lt.3, Lotte Shopping Avenue lt.3, Grand Sahid Sudirman, dan Bandara Soekarno-Hatta Terminal 3, dan Beachwalk Mall Kuta.
Author : Rizki Virani / @rizkivirani